A typical residential central air conditioning system consists of seveal parts:
Outdoor unit — the condenser supplies refrigerant to Indoor Air Handler Unit (AHU)
AHU consists of a furnace and fan coil. The furnace provides a heat source and the fan coil serves as a heat exchange.
The ductwork circulates the indoor air for conditioning.
The thermostat regulates the indoor temperature, by controlling the on and off of the condenser. When the system is started, the thermostat powers on the condenser to cool down the indoor air. When the indoor air reaches the preset temperature, the thermostat turns off the power to the condenser.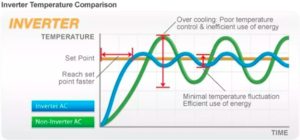 Frequent power on and off is harmful to the electric grid and the machine.
Advantages of Gree's UniX
Compared to traditional HVAC system, Gree's solution has the following advantages:
Energy Saving – Save from 30% to 58%
Less Noise – Reduce noise by up to 70%
Comfortable – More stable temperature and smoother airflow
Option to remove gas supply – You can keep using gas for heating, or replace it with electric heat pump – a way to reduce greenhouse gas emission.
Gree's HVAC retrofit solutions
Gree's retrofit solution makes switching from traditional HVAC to new technology easy. Because it's a direct replacement, there is no new ductwork, and the installation is fast and easy.
Outdoor Condenser
Different options of the condenser are available. Choose from a conventional design or a new space saving design.
Indoor Air Handler Unit
The difference is the Inverter Technology
An inverter is a device that converts direct current (DC) power to alternating current (AC) power.
An inverter is used to control the speed of the compressor motor, so as to continuously regulate the temperature.
There is no frequent power on and off, the compressor runs continuously and quietly….
So, the temperature is more precisely controlled.
Why Gree ?
Inverter technology with 24V connection
Cons:
Energy saving: up to 20 SEER , compared to traditional's 14 SEER
UltraCoolTM& UltraHeatTMTechnology
Slim design
Condenser noise lower than 56 dB (as quiet as library)
For customers in hot areas like AZ, NM, NV, TX, etc. this A/C works at 120F !
No need to buy 5 ton system for 3 ton required load
For customers in cold areas, this machine works under -30F!
Swtiching is straightfoward and easy
No new wiring is needed because of Gree's inverter technology with 24V connection.
Better inventory management and lower inventory cost– only 2 models with variable capacity
Optional for soldering or flare connection
Installation is very similar to traditional A/C
Gree Solutions
Replace both the condenser and the air handler as plan shows below.
| | | |
| --- | --- | --- |
| Existing Items | Plan 1 | Plan 2 |
| Condenser | New Condenser | New Condenser |
| Air Handler | New Air Handler | Old Air Handler |
| Duct work | as is | as is |
| Thermostat | as is | as is |
| Refrigerant Piping | as is | as is |
| Gas supply | Removed | as is |
A/C for heating is called heat pump, heating efficiency is higher than same wattage electric oven.
Gree UniXTMseries use standard 24V connection
compatible with AHU (coils) of other brands
compatible with the alarms/BMS systems already in use